Products:
•Efficient incline screen action
Increase your production and profit with the efficient E type incline Screen action. Inclined vibrating screen applies widely and most of the crushing plants adapt this type.
•Simple Construction and easy maintenance
Compared to horizontal vibrating screen, inclined vibrating screen has only one shaft design, no gears are required. It is simple construction and easy maintenance.
•Superior structure Bearings,Have No Axial Load
bearings are mounted onto spindles; shaft only transfers power from motor to bearing housings, weights and bearings. Hence, bearings with housings, weights rotate together on spindles and heat generated by high speed rotation of bearings will not transfer to shaft. Therefore, no substantial extension of shaft occurs and consequently bearing will not be biased by an axial stress. so, the life time of bearings extend.
•Power transfer via Universal Joint
Unique flexible power transfer by universal joint, compared to conventional puller / belt way can minimize bearing load and wear.
•Wide applications
Incline screen has benefits of simple structure for easy maintenance and larger through capacity compared to horizontal screen. It applies widely in all kinds of aggregates, recycling and mining industries ect. The applications of inclined screen is very popular.
•Ultra robust frame structure
Huck bolts construction frames into a box shape structure, high strength frame plates without welding and integrated screen decks with solid support to form a ever robust construction.
•Screen deck design
Screen deck adapted arc shape cross beam and has features of high strength and low deflection. Single-crown deck design can provide maximum screen cloth tension and only fixes by fixed plates at two sides. This design spread material evenly across the screen.
•Rubber Spring
Rubber springs are adapted for all series of screen with characteristics of reducing dramatically noise during start and stop screen.
Technical Parameters: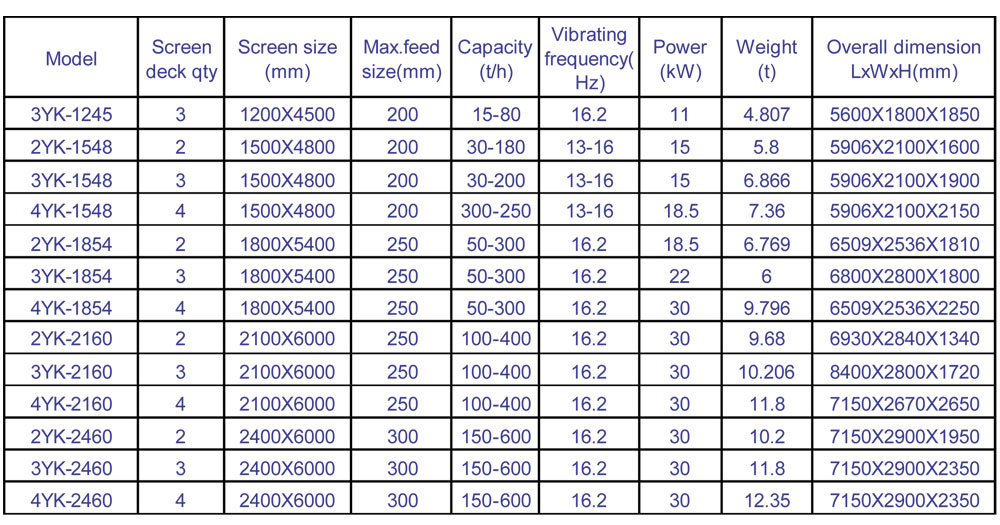 Related Equipment and Spares:
Cases:
All product information including pictures, types, data, performance, specifications on this website is for reference only. Adjustment of above-mentioned contents may take place. You can refer to the real products and product manuals for some specific messages. Except the special explanation, data interpretation right involved in this website is owned by Echo Equipment.