Products:
Roller crusher, which is widely used to crush medium and high hardness materials in the industries of cement, electricity, chemical engineering, metallurgy, construction materials and refractory matter etc, such as: limestone, slag, coke, coal, chalk, gypsum, alums, brick, tile etc.
The advantages of double roll crusher include reliable structure, high efficiency, easy-to-adjust and economical. The safety spring system is the overload protection device which makes foreign material goes through the machine without bringing any harm to it. The sealing modes are oil and water, which segregate the stone powder and lubricating system. The crushing chamber is decided by the purpose of ore, the standard model is suitable for medium crushing; the medium model is suitable for fine crushing and the short head model is suitable for fine crushing.
2PG series roller crusher is also called double roller crusher, suitable to crush medium hardness materials like coking coal, limestone, metallic and non-metallic minerals. It is of simple structure, reliable performance and convenient operation. You can get ideal product size by adjusting the gap between rollers.
Technical Parameters: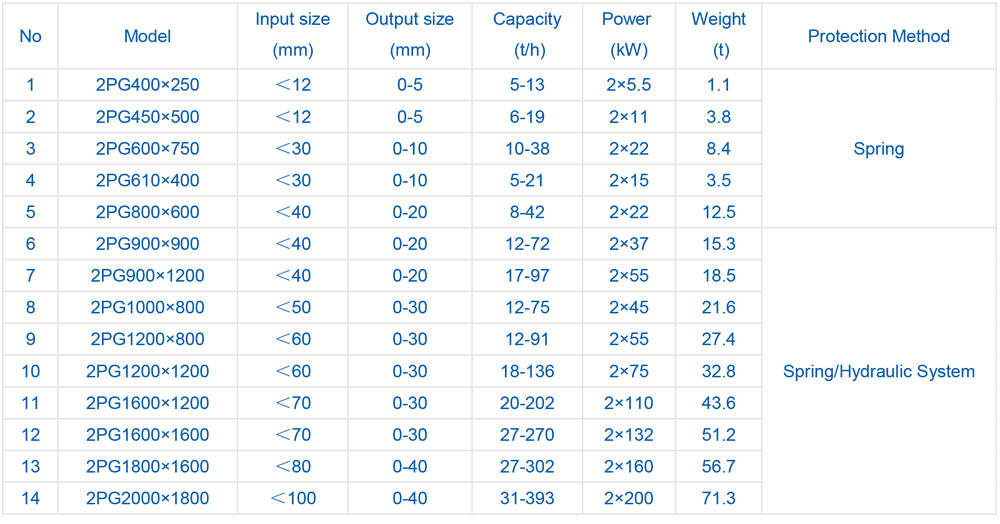 Note: No further notice if the technical parameters change.
Related Equipment and Spares:
Cases:
All product information including pictures, types, data, performance, specifications on this website is for reference only. Adjustment of above-mentioned contents may take place. You can refer to the real products and product manuals for some specific messages. Except the special explanation, data interpretation right involved in this website is owned by Echo Equipment.