Tuff Crushing Design Scheme
Author: Viewed: 683【Close】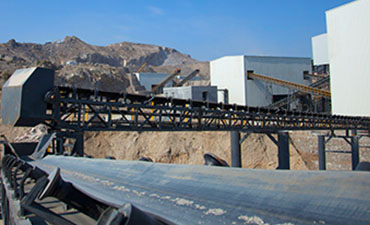 Material: Tuff
Finished Product: Gravel, high-quality sand
Output Size: 0-5-15-20-38mm
Capacity:1500 -1800TPH
Application:Building aggregates for city construction
Main Equipment: F5X1660 Feeder, C6X160 Jaw Crusher, HST315(S-typed cavity) Cone Crusher, HST315 (H-typed cavity) Cone Crusher, S5X2460 Vibrating Screen, S5X2160 Vibrating Screen
This project belongs to a large EPC project--- a turnkey project, which occupied over 5000㎡ and used more than 8300 tons of concrete and over 20 machines.
Tuff Crushing Project Profile
In November, 2016, we officially entered strategic business cooperation partnership with a domestic influential enterprise.
This project belongs to a large EPC project--- a turnkey project, which occupied over 5000㎡ and used more than 8300 tons of concrete and over 20 machines (a 600-meter belt conveyor included). we took responsibility for the whole process of the project, from design to construction, from plant building to after-sales service.The inestimable engineering task attested our strength and technologies on EPC projects.
Tuff Crushing Project Difficulties
1. Strict requirement on quality
China SINOMACH Heavy Industry Corporation is an affiliate of SINOMACH --- one of Top 500 companies over the world. It set strict demand on project research, supervision and quality. Compared with previous projects, this project required more exquisite drawing designs to meet the related standards of National Design Institute. The sectional pictures and specific size of every spare part were needed.
2. Complicated construction environment
The project is located in an island, which leads the inconvenience of equipment transportation. Meanwhile, the working condition was terrible. High temperature, dust, typhoon and lack of fresh water brought much inconvenience to workers.
3. Short construction period
The customer required to put the production line into use as soon as possible, leaving too short construction time for us.
Tuff Crushing Project Configuration
Taking various requirements of customers into consideration, we designed two parallel crushing lines. The production base composed of three-stage ladders is 275 meters long and 45 meters wide. The project includes 4 areas to place jaw crushers, storage bins, transition station and cone crushers respectively. The two crushing lines share the transit station and storage bins. Finally, the finished products are sent and shipped by a super long belt conveyor.
Tuff Crushing Project Advantages
1.Short project time making quick operation
So far, the project has been finished and got acceptance. we lived up to customer's expectations and finished the project in time because we arranged simultaneous construction at 4 areas, over 10-hour daily operation of multiple engineering machines and over 70 workers to work day and night. Generally speaking, given same time for similar projects, some machine manufactures may be still at the stage of plant construction.
2. Energy saving and cost reducing
For this 1500-1800TPH crushing production line, we only used 12 vibrating screens to achieve the effect of pre-screening while some other manufactures may need at least 20 units. Besides, our design helped reduce 1100KW of power, lowering the operation costs. Moreover, the design of this production line saved the length of belt conveyors. Scientific configuration of the production line not only reduced the investment costs but also saved maintenance costs of quick-wear parts.
3. Reliable quality, stable operation
The machines are worth of trust with all data meeting the requirements of contracts.Some manufacturer was confronted with breakdown of a cone crusher in another production line, which cut down 50% of estimated yielding. Strong strength of scientific research and manufacturing is the key to keep the quality of our machines.
4. Turnkey project --- EPC project
For this project,we offered one-stop service. From design, construction, civil engineering to motors and crushing equipment, we made every effort to finish them. This project was characterized by high efficiency, short construction period and quick operation. We are responsible for all construction steps. And our customer was free from worries about possible problems occurring during the construction period of the project. What the customer needed to do was raise requirements and check out the final result. We met customer's expectations through professional technologies and rich experience on EPC projects.